What the heck is going on with product manufacturing these days? I've gotten to the point where I'm afraid to buy anything.
I got a call from a friend of the family on Friday. She said the footboard of her son's bed had broken and wanted me to see if I could repair it. Being a rough and tumble teenager with some history of thing breaking in his presence, her son was under suspicion. Even though he claimed the bed broke just from sitting on it, his mother was somewhat skeptical.
After seeing the extremely poor manufacturing quality of the bed in question, I felt inclined to believe her son's story. It was framed with 3/4″ x 1 1/4″ lumber (not even big enough to call a 1×2) and shot together with staples, (not very well placed staples). The red stuff in the pictures may be some sort of glue, but it didn't hold anything. The framing was covered with simulated leather and fabric, effectively hiding the shoddy workmanship.
The left side of the footboard framing, where the bedrail attached, had split and come completely out. It had what amounted to a glob of staples all concentrated in the center of the very small piece of wood. More than likely that part of the framing split during the manufacturing process.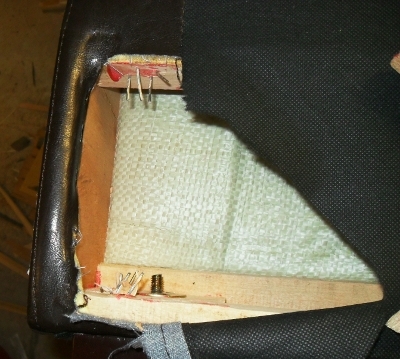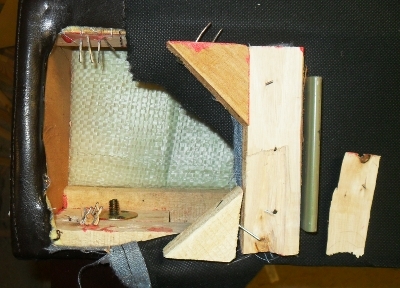 The right side of the framing near the mount location had definitely been split during manufacturing. It had screws run in from the bottom and embedded into the split in a way that could only have been done with a pre-existing split. Apparently these screws were intended to help compensate for the damaged wood. It also had quite a few staples, possibly for the same purpose.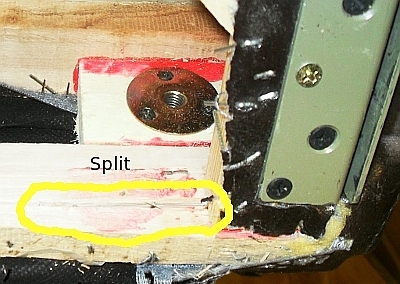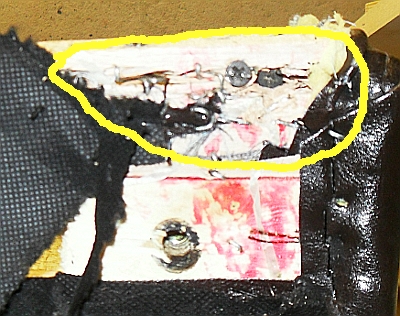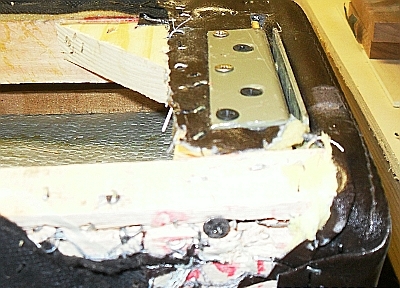 My solution was to remove all of the broken "toothpick" framing and replace it with 3/4 inch plywood stapled and glued in place.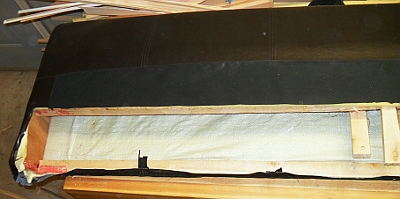 Had I been starting from scratch, rather than making a repair I would have built this out of far more substantial lumber. Given the excessive number of staples holding the simulated leather and fabric cover in place and the ease in which this material ripped, I decided to do only a minimal repair rather than a complete rebuild. My concern now is how long will the headboard hold up?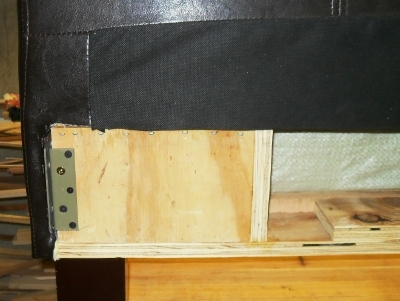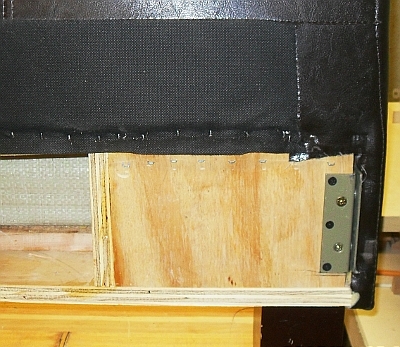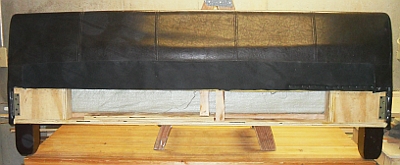 All it needs is a piece of cloth stapled over the new framing and it will be better than new.