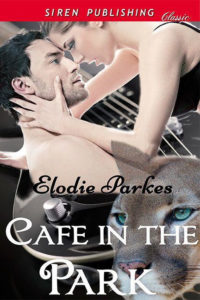 Emily's luck in the relationship department has been all bad. Out of desperation, she joins some match making services, but her prospective dates range from uninteresting to creepy. When she meets the mysterious Chris, she develops an instant attraction to him. But his peculiar, ways threaten to keep them apart before they have an opportunity get acquainted.
Chris is immediately enthralled with Emily, but he has a secret that could destroy any chance they have for love.
Elodie Parkes continues to surprise me with her stories. I couldn't read this one fast enough, but I also didn't want it to end. If you like intensely emotional, sexy shifter romance, I highly recommend you read Café in the Park.
Pick up a copy at:
Amazon
Siren-BookStrand