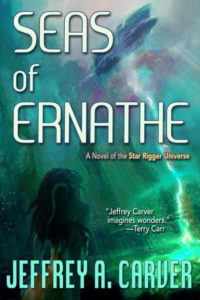 Seas of Ernathe takes place at a time when the art of Star Rigging has been lost to humanity and they're left to navigating Flux Space with mechanized probability probes. (Sailing a ship through Flux Space is akin to shooting white water rapids. Imagine kayaking and leaving the navigation to an auto-pilot, to get an idea what the loss of Star Rigging means.)
A compound derived from plankton that thrives only on the planet Ernathe may be the key to humans regaining the ability to pilot Rigger Ships. But the indigenous population (the Nale'nid) has begun interfering with the human colonists harvesting operation, and no method of communicating with them has been successful.
Seth Perland must find a way to establish a dialogue before the two sides enter into an all-out war. While Seth is on a mission to contact the indigenous people, a Nale'nid woman, Lo'ela, and her brothers abduct him giving him the opportunity he needs. But immersing himself in their way of life could cost him his humanity.
I read the the final book of the Star Rigger series, Eternity's End, first. It's fitting that I read Seas of Ernathe last. It's the first book written in the series but it falls last in the Star Rigger cannon making all the others prequels. Regardless of the backward order, these two books are brilliant gems marking the beginning and end of this thought provoking series. I highly recommend that anyone who loves great science fiction read the Star Rigger series.
Pick up a copy at: