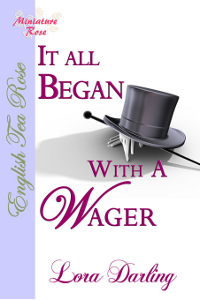 Four rakes in historical London (not sure of the era) entertain themselves with a bet that can only be won by deceiving a young lady who has just come of age into giving up her chastity.
I read Lora Darling's other three books, saving this one for last because I didn't care for the premise. I should have trusted the author wouldn't write a tale of young ladies being sacrificed for the pleasure of scoundrels.
The story is split into four parts, one for each of the roguish friends. Lora does a good job giving each of the guys what he deserves. Maybe more than he deserves, from my point of view. Give it a read and discover who the real winner is in each of the tales.
Pick up a copy from: